The German Reformer Martin Luther believed that the greatest need in his world was the exposition of God's Word. The traditions of the Roman Catholic Church had become so entrenched that God's Word had been silenced and the people were languishing in a spiritual famine. The spiritual dryness that characterized Europe was like tinder waiting for a flame; and when the Scriptures were finally unleashed, it launched what some have called "the greatest event in history" since the birth of Christianity.
Italy, however, was largely untouched by any biblical reformation. The vast majority of Italians today remain ensnared in a system that obscures the power of Scripture and the glory of the gospel. Italy needs men like Luther who are devoted to preaching the Word. Italian Theological Academy (ITA), a TMAI member school in Messina, is focused on this task.
In their zeal to equip bold preachers throughout Italy, ITA recently translated and published, through Alfa e Omega publishing house, Steve Lawson's biography of Luther into the Italian language.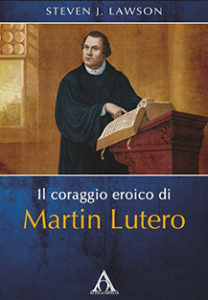 This biography was long overdue. There is very little on the Reformers from a conservative evangelical standpoint in Italy. Most churches sadly renounce any link to this great past and these great men. In contrast, Italian Theological Academy and the churches associated with it are taking a very different stance.
"We are grateful to produce such a work," writes Johnny Gravino, director of ITA, "because it ties us to this great past unashamedly. We want our students to know this. We want the churches we partner with to know this. If anything else, it makes a bold statement, namely, that we share the convictions of the Reformers and stand in their line, a long line of heroes of the faith. We are grateful for this historic past and want to remember it. That's the statement ITA wishes to make in Italy through the translation and publication of Lawson's biography of Luther."
In a day in which ministries are constantly reinventing themselves in fresh and contemporary garb, we at TMAI wish to stay faithful to the past, to the message and methods that have resonated throughout history, from Christ and the apostles to the church fathers and the Reformers. Like all of those before us, we believe in the power of God's Word to sanctify and to save.