Since pastors must not only interpret but also apply the Scriptures, pastoral training must equip men to confront the unique challenges that their people will face. In Croatia, many of these challenges come from the predominant influence of the Roman Catholic Church.
It has been said somewhat tongue-in-cheek that Croatians are "more Catholic than the Pope." To be a good Croatian one must be Roman Catholic, or at least that is what many believe. It is a question of national pride and identity. In fact, one of the most popular hymns sung in Croatia names Mary as the "Queen of the Croats."
This cultural identification with Roman Catholicism begins at childhood. Religious training is a mandatory part of public school curriculum, and children grow up with fond memories of religious holidays, which play a central role in the Croatian calendar. Moreover, many children's lives are marked by the milestones of the sacraments: baptism, first communion, wedding, etc. These celebrations take the form of family festivals, times when the extended family all come together to make memories. It would be unthinkable for the Croatian to abandon these aspects of life. They make up the fabric of Croatian society. Indeed, life without the Roman Catholic Church is simply unimaginable in Croatia.
This presents a unique challenge to the churches in Croatia. The teaching, culture, and societal pressure of the Roman Catholic Church have greatly shaped the genetic makeup of most congregations. Many, if not most, converts in a typical evangelical church today are first-generation believers who came out of the Roman Catholic Church and whose family still remains in it. Pastors must understand this dynamic and be able to address it with biblical truth.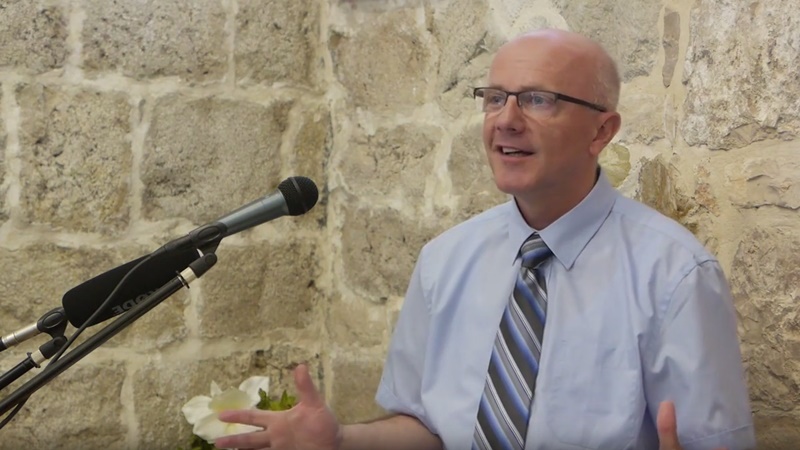 For this reason, it is a particular blessing to have one of our graduates from Theological Biblical Academy (TBA), Pastor Damir, recently return to take on the role of professor and to lecture on Roman Catholicism. Damir has a profound understanding of the Roman Catholic Church and its influence on Croatian society. In addition to his responsibilities as a pastor of Bethany Baptist Church in Čakovec, he also prepares a weekly radio program called "Grace Alone," which regularly proclaims the true gospel of Jesus Christ to the people of Croatia.
And who better to teach our students on Roman Catholicism than a graduate and a fellow Croatian who grew up steeped in the very same culture? Damir is aware of the estrangement from family that Croatian believers experience when they leave the Roman Catholic Church. He understands their feelings of denying their "Croatian heritage" by being baptized in a Protestant church. He speaks their language and knows what they have been taught since childhood. He recognizes that their memories, community, and family call them back to the trappings of Catholicism. He can empathize with them and administer the truth of God's Word where it is needed most.
Given the proper training, a local pastor will be more effective at shepherding and training those within his own culture than a foreign missionary.
This highlights one of The Master's Academy International's ministry distinctives: impact. Given the proper training, a local pastor will be more effective at shepherding and training those within his own culture than a foreign missionary. Since a local pastor is already fluent in the language, has an innate knowledge of the culture, and is intimately connected to the people to whom he ministers, his impact is maximized from day one. This is not to downplay the vital role of foreign missionaries but rather to laud and encourage their efforts in making biblical disciples and in passing on the ministry to them. We rejoice when our missionaries train nationals who later return to pick up a share of the training for the next generation. It is not competition but cooperation as co-laborers for Christ. And Pastor Damir, having graduated from TBA and then returning to teach and help his fellows navigate pastoral challenges in a Croatian context, exemplifies the fruit of such ministry.
May God bless Pastor Damir, TBA, and our Croatian brothers and sisters in Christ, and may they be strengthened to persevere in faith and Christian love.