Like many seminary students, Dragisa Milenkovic faced the trials of difficult assignments, long hours of study, and the need to balance family- and student-life. Still, while Dragisa pursued training at Theological Biblical Academy (TBA), The Master's Academy International's member school in Croatia, he did not simply hide in a bunker and work on his studies. He continued to evangelize those in his community, as well as extend hospitality to those who needed to hear about Christ.
Since graduating, Dragisa has returned to his native Serbia, continued his commitment to evangelism, and planted the first evangelical church in Valsotince. Recently, Misko Horvatek and Kristian Brackett (faculty members at TBA) had the privilege of traveling to Serbia for Dragisa's ordination. The time was a great opportunity to reflect on the faithful service of this humble ambassador for Christ and the work the Lord is doing through his ministry.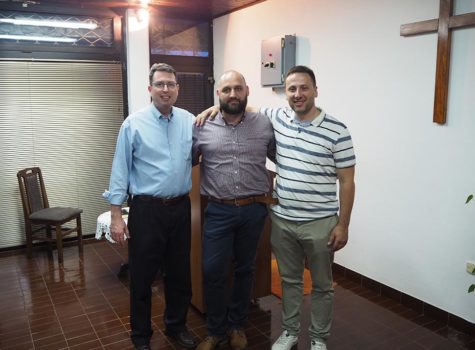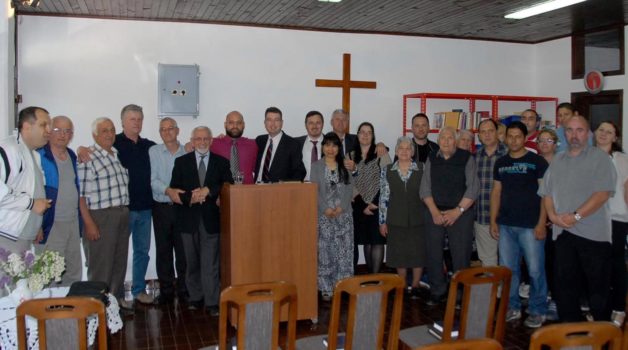 Dragisa has also been meeting periodically with believers from a city about 60 kilometers away (Nis, a city with 400,000 residents and the birthplace of Constantine) who appreciate his sound expository preaching and faithfulness to the word of God. Several church members were present for the ordination council where Dragisa answered a series of questions related to Bible knowledge, Systematic Theology, and Practical Theology. Both Pastor Misko and Kristian ministered the Word on Sunday morning before ordaining Dragisa. There were visitors from three other churches in Serbia who came for this special event, including Dragisa's classmate Branimir, who has also planted a church in Northern Serbia. Also among the attendees were Ivica and Roman. They came to Christ together after Dragisa proclaimed the gospel to them in his apartment while he was a student.
Dragisa also highlights the impact you have had in the lives of students and congregations around the world.
Dragisa is a prime example of the impact one man, armed with a clear understanding of God's Word, can have on a community. He is a testimony to the fact that the Lord uses humble servants to build his church and spread the gospel. Dragisa also highlights the impact you have had in the lives of students and congregations around the world. These men—like Dragisa during his time at TBA—faithfully serve while they are students and go on to be used mightily by God long after their training is complete. And the results have eternal impact.
Please continue to pray for Dragisa, for his continued ministry in Serbia, and for the faculty and staff of TBA. If you would like to receive a full report of how TMAI is impacting the world for Christ, we would be happy to send you our latest TMAI Global Impact Report in the mail for free. Get your free copy here.