Madagascar is home to more than twenty-five million souls, a place where many are hungry to be fed the truths from God's Word. It's a country that has been through political and religious change to a degree that is difficult for most people to imagine. Politically, the island has transitioned from being an independent kingdom, to a French colony, and then through a series of democratic regimes. These changes have brought about a great deal of instability, as well as varying degrees of religious freedom. Even in what seems like a difficult environment, the Lord is at work, transforming lives and building His church on this African island nation.
Recently, in conjunction with a regional TMAI conference, my son and I traveled to Madagascar to visit with Faly Ravoahangy. Faly has been associated with TMAI for some time, having served with our office during his time at the Master's Seminary. Last summer, Faly and his wife Lily—along with their five children—returned to their island home of Madagascar with a passion to serve the Lord and the church there. Faly is an extremely passionate and gifted man and has a particular desire to see men trained for the ministry in Madagascar. During our visit, Faly was able to give me a close-up view of the need.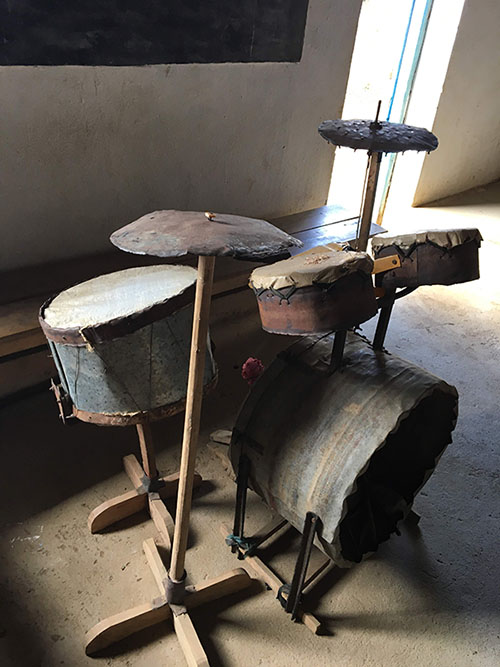 As we traveled the countryside, what caught my attention was the people's practical love for Christ and His church—they transformed their simple items into incredible instruments of worship. Mud buildings were made into worship centers and even pieces of metal were constructed into a full functioning drum set. And it really sounded like drums! The commitment and passion of the people, that they would take simple items and turn them into a means of praising the Lord, was striking and encouraging.
But beyond the people's own passion for the Lord, I also saw the great hunger of local village pastors for training. These men love their churches and want to serve them well. They also humbly recognize their need to learn how to study and teach God's Word. We had a chance to interview Pastor Hada, who told me the following (translated from Malagasy):
"I became the pastor of this church last year but I now realize that I need help in pastoral ministry, specifically to grow in my preaching, shepherding God's flock, and evangelism. But this need is not only in my church; there is a great need for training in this area and in the entire region. We need help and we need the tools to protect the flock against false doctrine. There are more and more false teachers coming into our area, and we need training to protect God's people."
His humility and his desire to grow as a shepherd and preacher was so encouraging to me. He's a prime example of the need for training in Madagascar. To meet these needs, Faly travels (often by foot) many miles for training weekends, where he teaches from sun up to sun down, with eager village pastors who feverishly take notes. Such scenes continue to fuel Faly's passion for training church leaders. But Faly's passion to pass on what has been entrusted to him stems from not only his own love for the Gospel, but it's also rooted in his father's passion to make Christ known in Madagascar. Faly's passion for the Lord is a result of biblical discipleship from his father, who alone ministers to 25 village pastors and is now passing on the responsibility and privilege of training these men to his son. He's fulfilling the biblical command of 2 Timothy 2:2. The baton is being passed.
By the Lord's grace, Faly and his family are not ministering alone in their home country. Haja is a graduate from Christ Seminary, TMAI's member school in South Africa, who recently moved to Madagascar to help. Haja now pastors Ankadivato Biblical Baptist Church in Madagascar and assists Faly with the growing training demands. In addition to Haja, Faly is working closely to provide training to the local denominations, which represent over 357 churches and gatherings in Madagascar. Together, they desire to see a TMAI training center in Madagascar to further strengthen their leaders to teach solid, biblical theology and to build up the next generation of the church. These men are working tirelessly and praying hard for the Lord to provide the resources to pass along the baton that has been faithfully entrusted to them.
At TMAI, we often receive requests from people who desire to have training centers in their church, town, village, or country. TMAI has received over 50 requests to start training centers in their countries.
Madagascar is a country with over 5,000 villages that have never heard the name of Christ, with 65 to 70% of existing countryside pastors that have received little to no formal training at all. In addition, there are very few good theological resources available, and unfortunately the culture is ingrained with syncretism, which is the combining of various beliefs, traditions, and religions into one.
Madagascar, while certainly unique in many ways, isn't alone in its need for access to sound, biblical training. At TMAI, we often receive requests from people who desire to have training centers in their church, town, village, or country. TMAI has received over 50 requests to start training centers in their countries.
The harvest is indeed plentiful, but the workers are few. Pray for the workers. Pray for men like Faly Ravoahangy and Haja who are giving their time, resources, and efforts to serve. Pray for the Lord to continue to build His church and raise up more workmen to pass on the baton to the next generation. Pray for TMAI, as we continue to train men around the world and consider the best way we can help meet the training needs in places like Madagascar. Lastly, pray as to how the Lord might have you come alongside and support His work around the world.
Let the peoples praise you, O God, let all the peoples praise you! Let the nations be glad and sing for joy.
Mark Tatlock,
President, TMAI